eBook - Workbook Download
The Power of Values-based Leadership
a leader's guide to sustainable, extraordinary results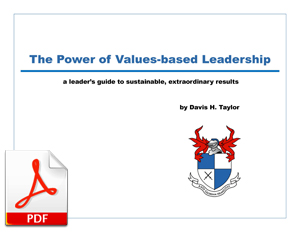 Download this free 39-page leadership ebook - Workbook resource complete with action steps, case studies and more from Davis H. Taylor, leader at TAI and author of The Imperfect Leader.
Simply enter your information below and click SUBMIT to gain instant downloadable access. You can save, print and share this ebook resource with others. View a sample of this ebook, first 17 pages (of 39) here.
Why read this ebook?
Corporations today seem adrift in a sea of change. We experience a truly global economy. Innovation and change are happening at astounding speeds. Competitive pressure is far greater than it ever has been.
In the midst of these pressures, most corporations claim that people resources are their primary competitive advantage…yet, according to a widely acclaimed study, less than one-third of the work force is actively engaged in their work—the rest are just "putting in time," or worse, actively working against the organization.
The antidote to this problem is Values-Based Leadership (VBL). VBL is a leadership philosophy that enables you to create and lead values-driven organizations that are energized, equipped and organized to achieve powerful goals.
This booklet/workbook will show you how.

Download a sample of this ebook. First 17 of 39 pages.